Brainstorming what to dress up as for Halloween is so fun, but it can be almost impossible to focus on one direction with countless options out there! Add another person into this equation, and it's so hard to actually agree on a couples costume. I mean, you guys only have a couple of weeks to make a decision though, so you gotta pick an idea fast! Luckily for both of you, this list of 75 adorably cheesy couples Halloween costumes is a great way for you and your S.O., friend, or partner to get some inspo! Love fun pop culture–inspired outfits? Or funny pun costumes? How about easy costumes to DIY? Yep, they're all here!
For a taste of what's to come, just think nostalgic Disney characters from Toy Story and Monsters, Inc., Winnie the Pooh, and many more—plus plenty of superheroes and even some cute animal duos. Any one of these get-ups is sure to make you two a hit no matter what your socially-distanced Halloween plans are. Start scrolling for all the couples costume ideas!
1
Morticia and Gomez Addams
Pile on the ghostly white face powder and dramatic makeup to be this iconic couple.
2
Fembot and Austin Powers
Groovy, baby! Don a feathery pink mini dress and blonde wig to be a "fembot," and then your partner can wear a velvet suit with a ruffled shirt to channel the international man of mystery.
3
Joe Exotic and Carole Baskin
The debut of Tiger King might seem like it was years ago, but, hey, it still makes a great Halloween costume using things you can probably find in your own closet.
4
Timmy Turner and Trixie Tang
This cartoon duo makes a fun throwback costume, and it's pretty easy to throw together last-minute.
5
Tinkerbell and Peter Pan
All you need is a little faith, trust, and pixie dust to pull off this costume! JK, you definitely need wings, a pastel mini, a green dress, and hat.
6
Lilo & Stitch
If you're a big fan of this classic animated flick, then this is the couples costume for you. A red top, green skirt, and long hair gets the idea across, and then a Stitch onesie completes the concept. (It looks so comfy, right?)
7
Lady Deadpool and Deadpool
Don a red-and-black costume to save the day as Deadpool and Lady Deadpool. I mean, this is the most bad-ass couples costume I've ever seen.
8
Hippies
Get your ~groove~ on with a tie-dye poncho, florals, a fringed vest, and headbands. With a lil craft magic, makeup, and Birkenstocks, of course, you'll look like you're well on your way to Woodstock.
9
Popeye and Olive Oyl
This duo is iconic. Grab a can of spinach, a pipe, and sailor hat to really nail Popeye's look, and for Olive Oyl, you'll need a red dress and an updo. Ta da!
10
Cookie and a Cookie Monster
The Sesame Street character is nothing without his favorite food. Wear a beige bodysuit, a matching tutu, and then add "chocolate chips" in the form of cut out pieces of brown paper. Your S.O. just needs a simple shirt depicting Cookie Monster, and then the two of you are set.
11
Tooth Fairy and Dentist
A perfect team! Dentists keep your pearly whites sparkly clean so that the tooth fairy can collect them. One of you just needs scrubs (and maybe bring some floss), and the other needs fairy wings and a wand.
12
Moonrise Kingdom
The Wes Anderson coming-of-age movie featured campers Sam and Suzy in these fun outfits. Binoculars, flowers, and a fake raccoon hat definitely make it recognizable.
13
Team Rocket
Prepare for trouble! And make it double! Capture a Pokémon with matching all-white outfits with a big red "R" on the front.
14
Codename: Kids Next Door
#TBT to this Cartoon Network show! Dress up as Numbuh 4 and 5 in their signature orange and blue outfits. The ketchup and mustard weapons are also genius.
15
Beer Pong Table
Wanna play a game? Or, rather…wanna be a game? Glue a pyramid of Solo cups to the front of your shirt and you're automatically a beer-pong table. Nice work.
16
Pacman and Pinky
Some intense hot-glue gun skills are probably needed to pull off this costume look.
17
Ron and Kim From Kim Possible
What's the sitch? To recreate this iconic look, just find a black turtleneck and olive cargo pants and some cool fingerless gloves.
18
Sully and Boo From Monsters, Inc.
So easy to DIY! Just find a matching baby blue hoodie and draw or glue purple spots and horns on it to create Sully, then wear an oversized pink shirt and matching leggings with socks to flawlessly become Boo.
19
Woody and Bo Peep From Toy Story
You've got a friend in me. Kinda hard to DIY these cowboy and Bo Peep outfits, but you can find them easily on Amazon if you're into them!
20
Chick Magnet
One person dresses up in a yellow dress with matching feathers glued on. For added emphasis, wear knee-high orange socks. The other person can dress in all black and glue a magnet and haphazard feathers to their outfit.
23
Nick and Judy From Zootopia
Wow, two sets of twins right here!
Another DIY breeze for you and bae! To recreate these Zootopia looks, search your closet for a blue button-down, a vest, and some blue pants, then add a police badge. For the fox's style, find a green short-sleeve button-down and khakis, and sport a striped tie on top.
24
Marilyn Monroe and Joe DiMaggio
Blast from the past. Find your best short blonde wig and white dress, then be sure to wear a bold red lip. Your S.O. can put on a Yankees outfit and carry a bat.
25
Katy Perry and the Left Shark
Put out Katy-Perry-at-the-Super-Bowl vibes in a colorful cone-bra top and matching skirt and a shark costume.
26
Referees
Like stripes? Then consider being a pair of referees for Halloween this year, maybe? Black stripes are always in.
27
Eeyore and Winnie the Pooh
Most of this stuff is prob already in your closet…well, maybe not the donkey onesie…
28
Pooh and Christopher Robin
If you don't want to both be animal characters from The Adventures of Winnie the Pooh, go ahead and have one person dress as Christopher Robin in a yellow polo and blue shorts.
29
Fleur Delacour and Victor Krum
30
Fred and Wilma Flintstone
It's super easy to find Fred and Wilma costumes for cheap on Amazon, but you can also create these yourself by cutting up oversized orange and white T-shirts.
31
Little Red Riding Hood and the Big, Bad Wolf
Watch out for the wolf! DIY these fairy-tale vibes with a red cape and red pants from your S.O.'s closet and a black catsuit and furry leggings from your own.
32
Tropical Drink and Server
Now I want to go on vacation. All this costume takes is a little craftiness! Construct a lemon and straw fascinator to become a "drink" and glue a plastic tropical beverage to a tray for your server.
33
Harry Potter and a Golden Snitch
Look out for bludgers! A gold dress and some DIY wings are a perfect snitch costume! Then, create Harry by just wearing a black long coat and a red and gold scarf. Don't forget the lightning drawing above the eyebrow!
34
A Panda and Bamboo
Honestly, I'm here for any Hallween costume that includes a onesie and this panda-bamboo combo is A+++.
35
A Koala and Eucalyptus
More animals and what they eat ideas! Here for this koala and eucalyptus sitch too.
36
Milo and Kida From Atlantis
Find a lost city together! Did these Atlantis cosplayers nail this look or what?
37
Evil Puppet Master and Marionette
Wear pretty much whatever you want to wear as a puppet master and puppet, then attach some marionette strings.
39
'80s Aerobics Instructors
40
Anne Wheeler and Phillip Carlyle From The Greatest Showman
Time to wear a pink wig and a ring master outfit! Bonus baby lion will definitely get you extra points.
41
Khaleesi and Her Takeaway Coffee + Jon Snow
Get a blonde wig and dress up as Khaleesi this year and have your other half dress like Jon Snow. Or, better yet, have your other half dress like a Starbucks cup with the longest ever name written on it.
42
Wayne's World
Party on. Vintage rock tees, flannel shirts, some hats = a great costume for a pretty low lift.
45
Mermaid and Sailor
So nautical! This is easy to DIY. Just find a pair of metallic leggings and a tank top you don't mind gluing a bunch of shells to. Then your partner can sport a striped shirt, white pants, and a captain's hat.
46
Jessica and Roger Rabbit
If you like the color red, this nostalgic costume idea for couples is the right one for you!
47
Beetlejuice and Lydia Deetz
Not gonna lie, I was too scared to watch this movie as a child and I have no idea what the plot is, but everyone recognizes that black-and-white striped suit situation! Also: Beetlejuice, Beetlejuice, Beetlejuice!
48
Hogwarts Students
Never too many Harry Potter ideas, I always say. This one is the low-key school-day wizarding look of your dreams.
49
Operation
Not sure I trust this doctor?? Another crafter's dream costume, just add blood stains to a scrub top and doctor's mask. The patient can grab any white shirt and pants and add the operation pieces to them!
51
Tweedle-Dee and Tweedle-Dumb
Yellow T-shirts, red shorts, white suspenders, red hats, and white socks can go a long way for this costume, inspired by the characters from Alice in Wonderland.
52
Milk and Cereal
If you've got major DIY skills, hit this breakfast cereal costume up.
53
Frappuccino and Starbucks Barista
For all you coffee lovers out there, become a Starbucks barista and a frap!
54
Hashtag
In case you want to play the game Tag all night long, be a #hashtag.
55
Ariel and Prince Eric
View this post on Instagram

#Umigomi ZERO! In Japanese, it means: zero garbage in the sea 🌊🐟🐋🐬🦈 The event @daisy_cosplay and I attended last weekend was about sharing environmental awareness through cosplay, in order to send a very important message message: we need to clean up our oceans and avoid throwing more waste in them. On the first day we cleaned up a beach in Tokyo Bay and on the second day we attended the main event at Tokyo Tower, where cosplayers and visitors could help picking up garbage from the park as well as listening to various panels taking place on the main stage🗼💕 I want to thank @worldcosplaysummit and @nippon_foundation with all my heart for organizing this amazing initiative, for giving us cosplayers the perfect occasion to speak up about a matter that concerns us all. We are honored to have been chosen to participate and contribute to this fundamental cause. And, on top of this all, we got to experience a little bit more of that WCS atmosphere that changed our lives forever three years ago and share the weekend with an awesome group of fellow #wcsalumni. This time, though, we had in common much more than just cosplay: we shared the belief that saving our planet starts from the little things, from the simple actions that each of us can take every day in their own house and workplace. And we got the chance to say it all together, to shout it to the world with one and strong voice ❤️🌏 I will post more pictures and videos about our weekend in Tokyo in the next few weeks. In the mean time, I want to start a discussion with those of you that read until here. So, what's the main environmental issue in your country? And how do you think it should be solved? #cosplay #umigomi_cos #cosplay4ocean #海ごみコスプレ #cosplaycouple #cosplayersofinstagram #italiancosplayer #worldcosplaysummit #cosplaycostume #disneyprincess #disneyprince #thelittlemermaid #disneycosplay #myheroacademia #myheroacademiacosplay #mhacosplay #todorokibnha #todorokicosplay #コスプレ #コスプレイヤー #nipponfoundation #oceanpollution #environmentalawareness #environmentalfriendly #cosplayfriends #cosplayfun #cosplaylife #cosplaygirl

A post shared by 🌈 Valentino "Imriel" Notari 🌈 (@imrielcosplay) on
Kiss the girl!
Prince Eric and Ariel are the best costume under the sea!
56
Bughead
Hungry for a shake right now.
Grab your nearest cardigan and bedazzled Oxford collar, then have your partner dress in a shearling lined trucker coat and beanie and you've got yourself the sweetest couple in Riverdale.
57
Bonnie & Clyde
Grab your best 1920s looks, a bag of money, and run!
58
A Bottle of Dos Equis and "The Most Interesting Man in the World"
59
Justin and Britney: The Denim Years
If you love jeans…pull a 2001 Britney Spears and Justin Timberlake move for Halloween.
60
Some Strawberries
So sweet!
Another easy DIY costume. Add dots and felt leaves to some very oversized red sweatshirts and you got yourself some strawberries.
61
Mary Poppins and Bert
Dress up as your Disney faves for Halloween and don't forget these essentials: a clasped tote, an umbrella, and a chimney sweep.
62
A Couple Pokemon Catchers
Dress up like Pokemon catchers! Take notes from these couples' separates, you can probably find everything they're wearing in your closet already (aside from the Pikachu stuffed animal).
63
Han Solo and Chewbacca
Ride or dies.
Have you ever seen a more iconic duo than Han Solo and Chewbacca? Well, maybe you and bae in these costumes!
64
Waldo and Wenda
Get all your red-and-white striped clothing out and dress up as your favorite point-and-find characters!
65
An Angel and a Devil
Are you the good one or the bad one? Whether or not you choose the horn headband or the halo one should let everyone know.
66
Dexter and DeeDee
If the popular Nickelodeon cartoon Dexter's Laboratory was one of your favorites growing up, consider dressing up in a lab coat and purple gloves and a pink skater dress this Halloween.
67
Danny and Sandy From "Grease"
Tell me about it, stud.
All black everything plus tight spiral curls and you're ready for "Grease Lightning."
68
'Fifty Shades of Grey'
Got a lot of unused paint swatches lying around at home?
69
Baseball Bat
I'm a sucker for puns.
Make some wings out of an old black tee and repurpose a white undershirt with some red yarn. Now it's pun costume o'clock.
70
Cinderella and Prince Charming
Raid your own closet to find the pieces these two are wearing!
71
Stranger Things
Head into the Upside Down for your couples Halloween costume.
All it takes is a lot of Christmas lights and knowledge of the alphabet.
72
The Incredibles
It's pretty easy to find Incredibles costumes on Amazon! From there, just fight all the villains the rest of the night.
73
Various Insurance Options
These two are dressed as Jake from State Farm and Flo from Progressive, but one of you could switch out and be the Geico gecko if you want!
74
Harley Quinn and The Joker
Go HAM on the temporary tattoos and colorful wigs to make this Suicide Squad costume your own.
75
Mario and Luigi
Any excuse to wear overalls is a good one! Then, just add hats and mustaches.
76
Rum and Coke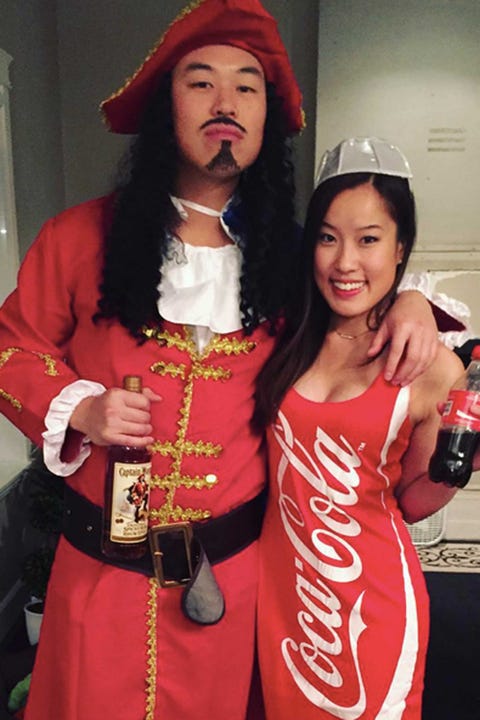 @s_then/Instagram
The bartender will definitely be able to guess your cocktail of choice all night long in these costumes.
This content is created and maintained by a third party, and imported onto this page to help users provide their email addresses. You may be able to find more information about this and similar content at piano.io