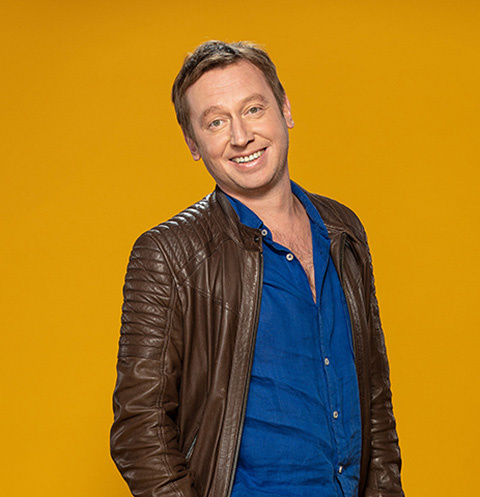 Mikhail Trukhin
For two years Mikhail Trukhin did not manage to enter a theater institute, and in order not to waste time in vain, he worked in the "Alexandrinka" as a simple assembler. Colleagues-workers delivered a harsh verdict – "What kind of artist are you?", But to spite the skeptics Trukhin not only graduated from LGITMiK, but also became a star, reincarnated on the screen as one of the key characters in "Streets of Broken Lanterns" Lieutenant Vyacheslav Volkov. In addition, Mikhail had a chance to play Hamlet in the Chekhov Moscow Art Theater – a role that all actors, without exception, dream of.
From a dark room in a communal apartment Trukhin with his wife and two children moved to his own apartment. From now on, he could provide for his family, but he only managed to see his relatives in short breaks between filming. Gradually, the couple drifted apart and divorced, and soon it became known that a new love had appeared in Mikhail's life. Was she one of the reasons for the collapse of your first marriage?
On October 28, Trukhin turns 49, and today he is a sought-after artist, a happy husband and father of three children. But luck did not always accompany the actor: there were periods of lull in work, when he stifled depression with alcohol, and moments of disagreement in the family. How did Michael manage to overcome life crises?
The beginning of the way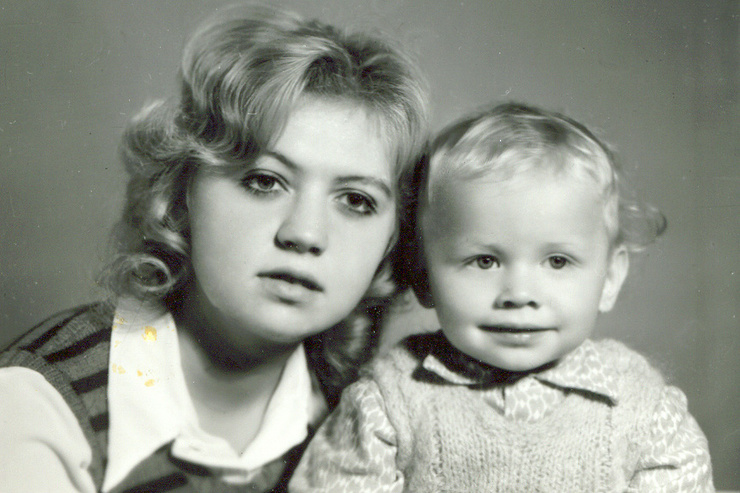 Mikhail Trukhin with his mother
Mikhail spent his childhood in Monchegorsk, Murmansk region: there his grandmother looked after him, while his mother received higher education at the Leningrad Technological Institute. In the summer, the boy was sent to a pioneer camp in the south, to Kerch, where he helped local residents with the harvest. True, an inquisitive child could not do without adventures.
"I found a shell in the field of battle during the Great Patriotic War. And I could not think of anything better how to take this shell to my city. Well, I won't talk about the sappers in the yard and remember how I was punished, "the artist shared within the framework of the Pioneer Truth project.
As a child, Trukhin was engaged in hockey and judo, but after moving with his family to Leningrad, the sport faded into the background. The fourth-grader was lucky to live with his mother and her new husband on the Moika Embankment, in the very heart of the Northern capital. But his stepfather never became his dad.
"I called him by name, I did not feel filial feelings, although he taught me a lot. So, my stepfather eventually gave me a boat, and I helped people return home in the summer, when the bridges were raised. This is how I earned my first money, "said the actor.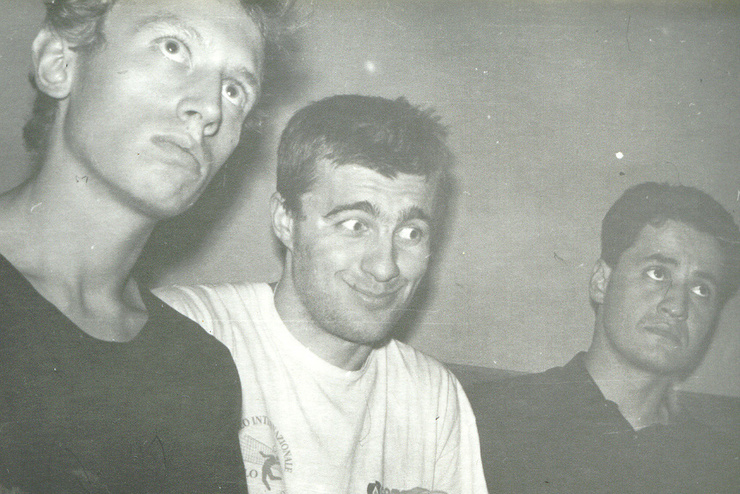 Mikhail Porechenkov was one of Trukhin's classmates
In Leningrad, Mikhail began to attend a drama club and fell in love with the art of reincarnation. However, the first attempts to enter the Institute of Culture were not crowned with success, so for a couple of years the young man had to earn extra money at the Alexandrinsky Theater as an editor from six in the morning until late at night. In parallel, he worked in the acting studio of Igor Gorbachev, who headed the institution. VGIK, "Shchepka", St. Petersburg Theater for Young Spectators – everywhere Trukhin waited for a refusal, until he got on the course of Gleb Filshtinsky at LGITMiK. The student's classmates were Konstantin Khabensky, Mikhail Porechenkov and Ksenia Rappoport.
The years of study were the brightest in the artist's life: constant rehearsals, interesting acquaintances, creative upsurge. Then Mikhail met the first chosen one, Lyubov Yeltsova. She was a classmate of director Yuri Butusov, in tandem with whom Trukhin later made many performances.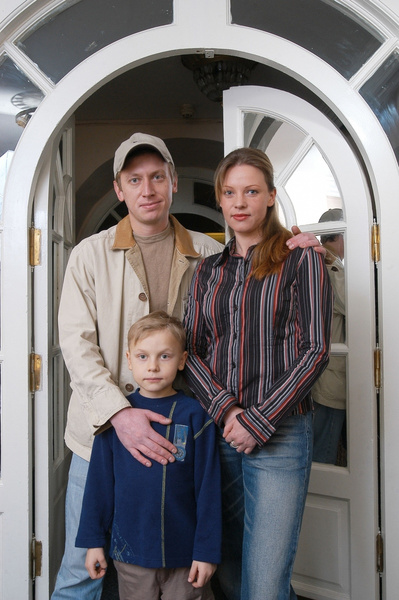 The first wife of the actor was Lyubov Yeltsova
"Lyuba and I studied on parallel streams, and we met either on March 8, or on another holiday at a skit. I saw her on the marble staircase, called to us, they say, it's fun here. I fell in love right away, "the actor recalled in Boris Korchevnikov's program" The Fate of a Man "on the Russia 1 TV channel.
Poverty and life in a communal apartment: tests by Inga Oboldina
At first, the picture of the couple's life together did not look rosy: the difficult 90s, unemployment, a communal apartment on Belinsky Street, where there was no water in the bathroom, and in the kitchen there was an old stove for three families. In such conditions, the son of the spouses, Yegor, was born. They moved to their own two-room apartment only three years later, shortly before the birth of their daughter Dasha.
Film success and personal collapse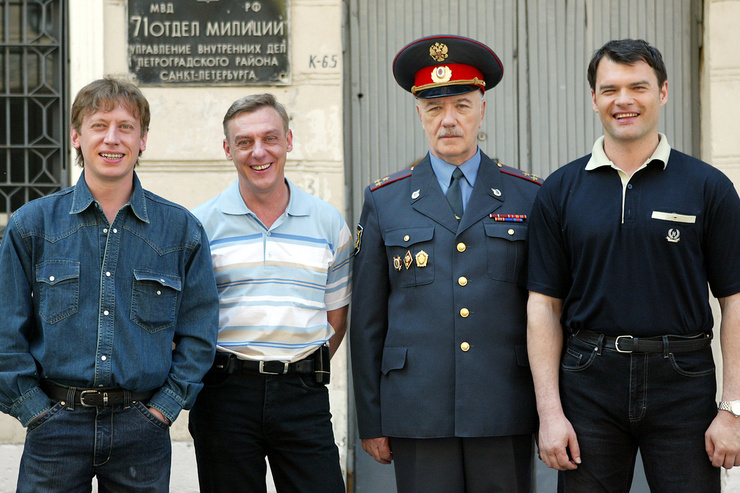 The audience fell in love with Lieutenant Volkov
In the 90s, Mikhail's career was just beginning to develop – the first performances, episodic roles in "Cynics" and "Afghan Break". Filming in the latter could cost the artist his life: hostilities were unfolding in Tajikistan, Russian filmmakers had to barricade themselves in hotels to avoid a real threat. Soon the group was evacuated, and work on the film continued only a year later.
Mikhail Trukhin recalled the most terrible shooting: "A real war was raging in Tajikistan then"
Trukhin pulled out a lucky ticket when he was cast in the TV series "Streets of Broken Lanterns". His wife and little son appeared on the screen with him. "Nothing was filmed in the country at that time, wild dogs were running around the Lenfilm studio, everything was stolen there, what they could, plumbing was sold in the pavilions. And suddenly RTR ordered this project. The debut "golden" seasons became a bomb, my first fee was $ 60 per shooting day – it was a huge amount of money, "Mikhail recalled.
Trukhin's character Lieutenant Volkov became a national hero, finally, the artist gained well-deserved fame: he was recognized on the street, asked for autographs. However, success had to pay dearly: the actor engaged on the set hardly saw his wife and children, his travel bag had not been taken apart for two months.
"Little things make up misunderstanding, the family falls apart, as the person is physically absent. Contacts and connections are crumbling. Someone copes and finds compromises. But even then I realized that the show must go on. The family is sacrificed to ambition, "Mikhail confessed.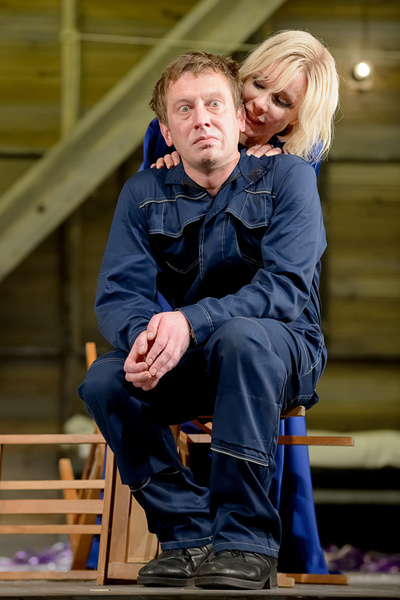 The transition from the Theater on Liteiny to the troupe of the Chekhov Moscow Art Theater coincided with the time of Trukhin's divorce
"Deadly Power", "The Death of an Empire", rehearsals of "Hamlet" in Moscow – the marriage was bursting at the seams, but the artist's career was on the rise. His life turned upside down in an instant: an invitation to the capital to join the Chekhov Moscow Art Theater almost coincided with the filing of an application for divorce. "It was a mutual decision, the relationship ran out of its own accord, when people became uninteresting and uncomfortable with each other. We divorced in a civilized manner and as painlessly as possible for children, "Trukhin assured.
The star of "Streets of Broken Lights" Mikhail Trukhin owes his daughter alimony
However, Love described the events of that time differently. The woman got tired of enduring her husband's absence at home, tried to persuade him to stay with the children longer, but the terms of the contract were ruthless. Mikhail was increasingly delayed at work, justifying this by the fact that filming required full dedication. But Yeltsova felt that Trukhin had changed, ignored her, brushed her aside upon returning home. The spouses slept in separate rooms, occasionally quarreled, or even pretended not to notice each other. His wife had two suspicions at once: that the artist dreams of moving to Moscow, but the family holds it like an anchor, and that he has a mistress.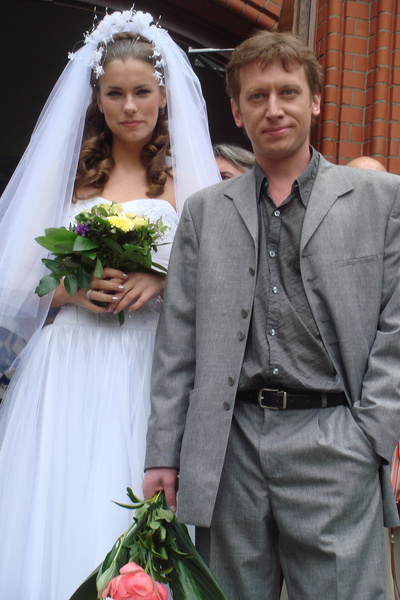 Anna Nestertsova became Trukhin's new lover
"Before the premiere of Hamlet, Misha called and persistently asked if I would come to the premiere in Moscow. We already parted, but I did not want to miss such an important event for him. Unfortunately, I just couldn't. He was noticed at the release already in the company of a young girl. Apparently, Misha was afraid that we would run into her. Then they told me that she was pregnant. I, like all wives, learned about everything last … Some time passed, and I asked our mutual friends: "Why didn't you tell me anything about this? You knew! " Everyone averted their eyes, made excuses: they thought, it would be formed … "Didn't you yourself notice?" I haven't seen it … It was an instinct for self-preservation: in fact, it's such a shame for a woman to know that they are cheating on you, "reasoned Lyubov.
Mikhail Trukhin explained why he doesn't communicate much with his son
Anna Nestertsova, who was 14 years younger than him, became Trukhina's new lover, and eventually the second wife. The wife gave the artist a daughter, Sophia, about which Yeltsova was one of the first to know. The only thing that then interested Lyubov was when exactly Anna entered Trukhin's life. "We went to a cafe with the children," the actor's first wife shared. – I could not resist and asked Misha: "Tell me, did she appear when we were still? .." Misha hastily replied: "No, after the divorce." Maybe he just didn't want to upset me, but I am grateful to him for this answer. "
Heavy period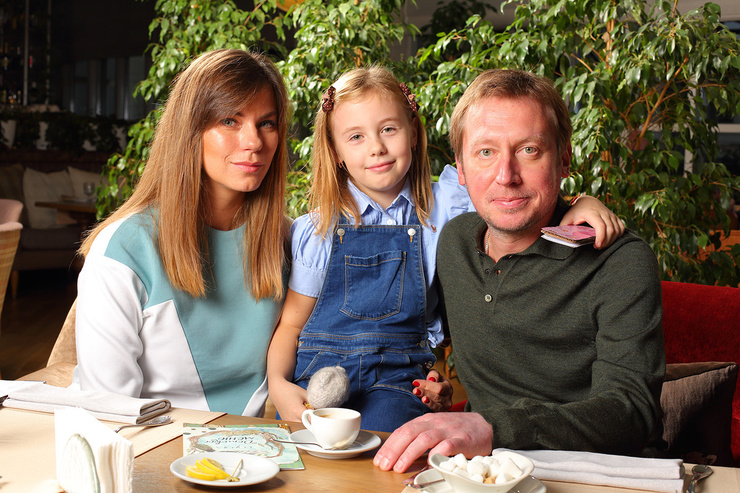 Mikhail Trukhin with his wife Anna and daughter Sonya
How and when did Trukhin meet Anna? According to the actor, they first collided on the set of "Streets of Broken Lanterns", where the girl played in the episode. Then the man did not pay attention to the artist, and later met with her in the St. Petersburg club. "We got to talking, got to know each other and are still talking," emphasized Mikhail.
It cannot be said that from that moment the life of an actor turned into a fairy tale: the creative upsurge over time gave way to a period of lack of demand. The phone went silent, there were no offers, and Trukhin suffered from a deep depression. "It seemed that no one needed me, I was like a" downed pilot ". It did not reach such degrees to drink instead of work, but the short period when he drank – was – the artist did not hide. – This is due to the voluntary withdrawal from the "Streets of Broken Lights". I was tired of this story in a purely human way, I began to feel like some very expensive doctor, sitting at the table and interrogating patients. And then the crisis came again, there was no work, and I was terribly scared. "
Mikhail Trukhin on alcoholism: "Then it seemed to me that I was a" downed pilot "
Anna supported Mikhail in a difficult period, did not allow him to despair and give up. "When he drank, I was nervous, of course, I understood that these were the consequences of inner pain. I could not solve the problem, but only ensured comfort and life in the house. Maybe it helped, "Nestertsova suggested.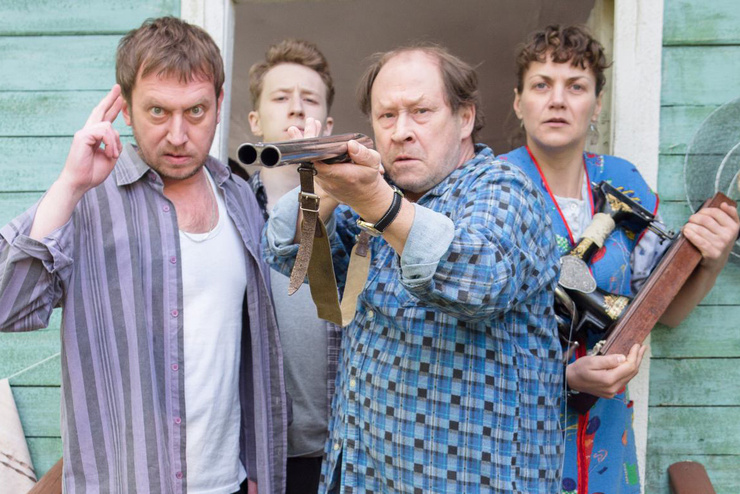 The period of stagnation ended, and Trukhin was again invited to the cinema
Fortunately, the time of stagnation ended, and the actor was again invited to the cinema. The actor got a vivid role in the series "Treason", followed by the popular projects "Ivanovs-Ivanovs", "Fitness" and "Guests from the Past." But has Trukhin learned over the years to combine work and home, so as not to repeat the mistakes made in his first marriage?
"With age, you realize that you bear a colossal responsibility. Egor is studying at GITIS as a director, Dasha as an actress. I help them, everything that I can give as an actor, as a father, as an advisor – I do it with great pleasure, "noted Mikhail.
Daughter of Mikhail Trukhin: "I am saving up money for a house for my parents"
Finally, Mikhail Trukhin had the opportunity to make up for lost time and give the elder heirs the attention they were deprived of in childhood. Anna easily found a common language with Yegor and Dasha, so now Trukhin can spend time with all close people. "I wouldn't do anything and wouldn't be able to change anything in my life," the actor summed up. "This is God's providence, providence, my destiny."
Based on materials "7 days".
Photo: Legion-Media, PhotoXPress.ru, Sergei Dzhevakhashvili, the press service of the STS TV channel, personal archive, footage of the series "Streets of Broken Lanterns", "Ivanovs-Ivanovs"